Crypto is up HUGE. We have been telling you for a while now. You can check out our article on Riot vs. Mara here. Oh, and Bitcoin, of course, which is now up over 150% since this article. If you have been buying every dip, good work! It can be argued that Bitcoin's breakout to all time highs and beyond is the start of a new bull market. Recently, we wrote about the potential of some of these beaten up cryptos, like Dogecoin, which is up about 50% on the week. Although some investments may be more profitable than others, our focus today is Riot Blockchain (RIOT), which has rallied over a 1000% from the March lows. But can it keep going, and why? Without further ado, check out our Riot Blockchain Stock Prediction: Back to All Time Highs in 2021?
What is Riot Blockchain?
According to the company website:
Riot Blockchain is focused on supporting the bitcoin ecosystem through proof-of-work mining. We are believers in the bitcoin opportunity and our continued efforts aimed at growing our mining operation demonstrates our commitment to the bitcoin network.

Riot is one of the largest U.S. based publicly-traded bitcoin miners in North America and we are constantly working to improve our efficiency and production.
Essentially, Riot Blockchain is the largest US Bitcoin mining operation, with a massive infrastructure needed to support their operation.
How big is their operation?
According to the "Bitcoin Mining" Section:
Our 100% dedicated bitcoin mining operations is currently located at Coinmint LLP's Massena, New York facility which houses our currently deployed hardware fleet consisting of 6,040 next generation Bitmain Antminers. We currently have a deployed hash rate capacity of 456 PH/s utilizing approximately 16.3 megawatts (MW) of energy.

Riot has 1,000 more S19 Pros scheduled for delivery in early November 2020 which is expected to increase our hash rate capacity to 566 PH/s utilizing approximately 19.7 MW of energy.

We also have 8,000 S19 Pros scheduled for delivery in equal installments over the first four months of 2021. By early May 2021 we are expected to have a total hash rate capacity of 1.45 EH/s (1,446 PH/s) while utilizing approximately 46 MW of energy.
Now that is a lot of hash power…
Bullish!
Technical Analysis
As you can see from this 1 year chart of RIOT below, the stock has gone parabolic.
Currently, RIOT is trading around $11. This is over 1000% higher from the March lows of $0.86c.
For the past couple of weeks, Riot Blockchain has been hitting new 52 week highs.
Technically it is trading at 3 year highs, and it has not traded this high since the wild Crypto Bull Run of 2017.
The general rule of thumb is that stocks hitting 52 week highs tend to continue hitting new 52 week highs.
Like Newton's First Law of Motion. An Object in motion continues to stay in motion…unless acted upon by an external force.
In RIOT's case, crypto continues to move higher, with dips in between, but no significant pullbacks yet. Ergo, no outside force acting to bring down RIOT…yet.
But can it keep moving higher? Perhaps back to $50, the all time high?
Riot Blockchain Stock Prediction
RIOT has performed extremely well of late, that cannot be challenged. However, it's performance is not just based on hype.
The company has expanded significantly since 2017. Even recently, they have announced a significant amount of positive company developments.
For example, the other day the company announced the implementation of an "8-megawatt immersion technology" project.
According to Coindesk:
Nasdaq-listed bitcoin mining company Riot Blockchain (RIOT) is piloting new liquid cooling technology for mining hardware in Texas to test solutions for effective mining in difficult temperature environments.

Riot is launching an 8-megawatt immersion technology testing initiative to "assess the potential for higher productivity and lower cost mining opportunities in Texas," per a press release. Testing is scheduled to start in Q1 2021. 
According to the CEO, this immersion cooling technology would significantly increase the hashrate of each machine. This is a pretty big deal considering their entire business model focuses on the efficiency of their mining operation.
Show Me The Money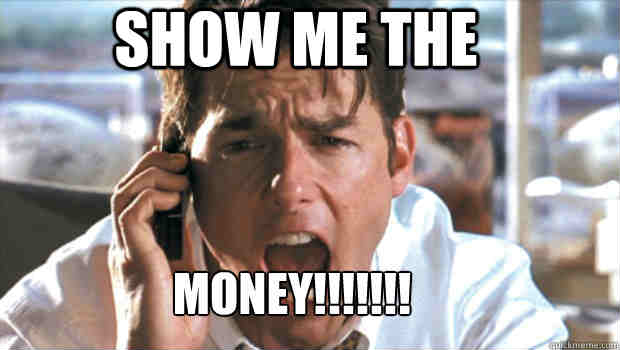 One way to check if the company is actually growing is to check their financials AKA Follow the Money.
According to the highlights from the most recent quarterly financial release:
[Riot Blockchain] Increased mining revenue by 21% to $6.7 million for the nine-month period ended September 30, 2020, as compared to $5.6 million the same nine-month period in 2019.

Increased cryptocurrency mining revenue margin to 38% for the nine-month period ended September 30, 2020, as compared to 18% during the same nine-month period in 2019.

Increased margin of cryptocurrency mining revenues in excess of cost of revenues during the three-month period ended September 30, 2020 to 47%, indicating performance improved in the latter part of the nine-month period ended September 30, 2020.
These are pretty bullish figures overall. Strong growth prospects, for sure.
Remember…this is from November, before Bitcoin broke above $20,000.
All in all, the combination of strong growth figures, new technology adoption and mining rig expansion are very bullish signs. Especially if the crypto space is about to enter a major new bull market!
Conclusion
So, given this information, what's the verdict? Can RIOT go back to all time highs again?
In our opinion….yes, of course! In fact, we have no idea why it is not already at that level.
Think about it…RIOT was at $50 when Bitcoin was just touching $20,000. But Bitcoin is now 24,000…so how is RIOT not back to the all time high?
The truth is….the reason for the previous high was hype.
Hype propelled crypto to incredible levels that very few thought were possible.
But, based on our analysis, this crypto run has different conditions.
This is not 2017 where unknown, operationless cryptocurrencies were going up 100-1000%/day. This run is a steady climb over the "wall of worry."
For this reason, we believe RIOT will be able to reach (and possibly) exceed its previous highs. This may sound like a sunny prediction, but it is very possible.
Especially when you consider the fact that Bitcoin is already significantly higher than its previous all time high and most of the other cryptocurrencies have not even come close.
This signals to us that we are in the early stages…and this one could get real crazy.
As of now, our Price Target for RIOT is $50 by 2021.
If Bitcoin starts plowing through round numbers (50k, 100k..) we will have to update this article, but for now we are very bullish on cryptocurrencies and RIOT Blockchain stock.
Stay Up To Date with AFN
Subscribe to AFN for the latest analysis and stock predictions!
Did you miss the big run on QuantumScape? You should probably subscribe…
Bitcoin is up BIG! Have you read our forecast? Check it out here.
For more crypto articles, please check here.
Have you started trading yet? Use this link to get free stocks and trade for free on WeBull.