Before you get flustered and assume we are suggesting you sell all your DraftKings stock, just know we are very still VERY bullish. However, recent information has come to light that gives us pause. You can see our first analysis on the stock here, where we recommended buying DraftKings around $35 a share. At the time of this writing, DraftKings is trading in the $49 range. You're welcome! Although we have made a killing on the stock, we recently stumbled across some interesting information that may be useful for those actively trading the stock. Below, we analyze the question – is DraftKings Stock About To Get Demolished?
Warning Sign
This morning we stumbled across a very bullish article about DraftKings from Barron's. The article reads:
DraftKings stock has a new bull, and he sees huge upside. Shares of the online-betting firm were rising on Tuesday.

Loop Capital Markets analyst Daniel Adam initiated coverage on DraftKings stock (ticker: DKNG) with a Buy rating and a $100 price target. That represents 127% upside from recent levels.

The company's shares popped on Friday after it reported earnings and raised its outlook for 2020 revenue. Its forecast for revenue in 2021, at between $750 million and $850 million, also represents huge expectations for growth.
Now, at first glance, you would think this is great!
Why wouldn't you buy more when you see such a bullish article?
Well, short answer is…it's from Barron's.
The Barron's Curse
Most average people do not know this, but Barron's is actually famous for calling many "tops." AKA reversals of a particular asset.
Essentially, many times when Barron's come out with an article, the asset they are describing tends to reverse heavily.
The most famous example to date is the cover from late January 2020.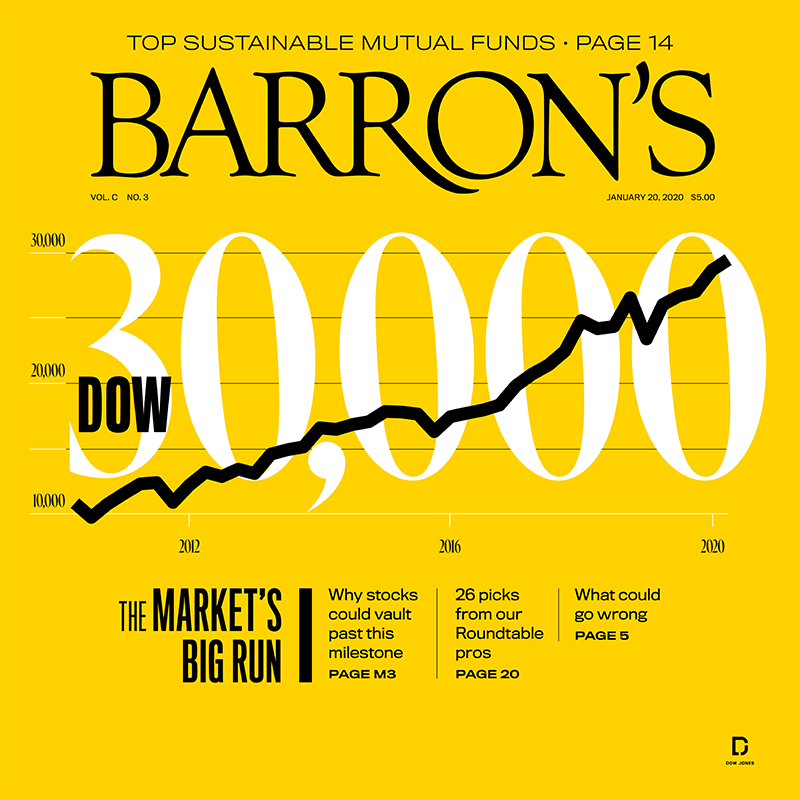 The market proceeded to have its fastest bear market in the history of the stock market. The only moment that rivalled the March bear market was the 1987 crash and the 1929 crash.
And more recently:
August was around the time when many "SPACs" got clobbered.
Only recently have they have recovered, and nowhere near pre-August levels.
Most notably, Hyliion, Nikola and KCAC.
Why We're Still Long Term Bullish
As we wrote in our previous article on DraftKings:
There are many positive developments for the legalized sports betting industry. Just recently, Maryland, Louisiana, and South Dakota joined 21 other US states in the race to legalize sports betting across the country.

States across the country are trying to shore up lost revenue following the draconian lockdowns. These lockdowns have caused extraordinary damage to each state's economy, forcing them to look for alternative ways to generate revenue.
Yes, to us it is clear that DraftKings is one of the best long term holds out there.
Nothing in this article is meant to sway you one way or the other, only to express the alarm we felt at seeing this BArron's article.
That is not to say we don't agree with the article itself.
In fact, there are some strong points in there. For example:
Adam wrote in a note on Monday that he sees online sports betting and iGaming, or online casino games, as the most significant growth drivers for the stock. He estimates that the total market for the two areas combined could be as large as $30 billion at maturity, far more than the consensus view of about $20 billion.
Bullish?
Shutdowns…Again
Shutdowns are starting, or have already started, in many areas of the world.
For example, NYC has recently announced it will be shutting down its school again to combat "virus rates."
This is after more restrictions have been placed on public activity lately. You can find the latest updates here.
You can find a list of restrictions nationwide here.
Will these shutdowns lead to another episode of what happened in March? Will we get another bear market this time, or will we go down for the count? Only time will tell.
Conclusion
Yes, the headline may sound alarming. However, do not take this to mean we are bearish. Very rarely are we bearish lately, considering the massive amount of stimulus being shoveled into the financial markets of late. Although, we do want to caution our readers to ensure the risks currently out there. All in all, we love DraftKings. As our recent articles suggest, we believe there are a significant amount of bullish factors for the stock in the long term. Unfortunately, between the Barron's article and the recent shutdown announcements, we are starting to see some flashing red lights. Not to mention the fact that the stock market has been on an unbelievable tear since the election. Conclusively, our bullish thesis remains, but do not be shocked if we see another -20% crush on stocks, even DraftKings.